Bike trip around the lagoon :
a 360 ° circuit throughout the breathtaking landscapes and flavors of Thau

Starting from Bikemed, mount your bike for an unforgettable day trip !
The sublime cycle path allows you to overlook the Corniche de Sète and its clear waters, then takes you along the Lido between vineyards and beaches… Why not take a swim ?
You will then cross the Canal du Midi before discovering Marseillan, a real gem on the edge of the lagoon. You can have lunch on the charming little harbor and why shouldn't you visit the Noilly Prat house and its famous vermouths ?
Then, you will pursue your journey between vines, oyster farmhouses and unspoiled natural spaces before approaching the charming villages of Mèze, Bouzigues and Balaruc, a real treat !
The new cycle path between Balaruc and Sète brings you back to the starting point.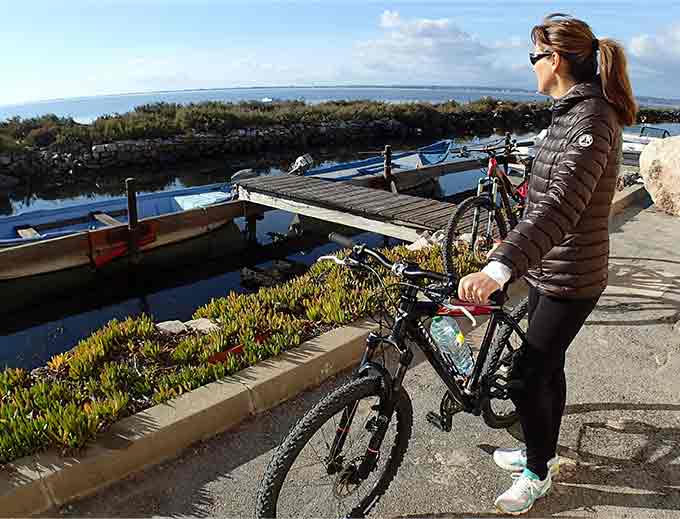 Let us guide you
You have the possibility to be guided by GPS on the track by downloading this app: https://www.visocyclo.fr/
then, select the circuit "Tour de la Lagune au départ de Bikemed", n° 4493650
Warning:

Even if this track is relatively accessible, especially by electric bike, it is quite long and requires some basic skills, because you will be self-reliant in sometimes isolated areas:
– We recommend to have a technical and sporting level sufficient to cover 60 km by bike, sometimes with wind, including 10 km on irregular tracks with holes, bumps, stones and a few more technical passages between Marseillan and Mèze,
– To know how to orient yourself because the markup is not always obvious,
– To know how to repair a puncture or replace a chain that could have derailed if necessary.
If you do not think you have these basic skills, it is better to orient yourself towards easier courses such as:
– A round trip to Marseillan via the magnificent Lido cycle path, with a visit to Noilly Prat and why not a meal in the port ?
– A discovery of Sète and its cultural treasures
In any case, we will tell you the most suitable routes according to your level and your wishes !